The MISSING Pattersons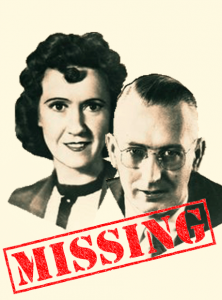 pics from Herald Post archives at UTEP, graphic commissioned by Capstone Productions.
In March of 1957, a married couple who resided in El Paso, Texas suddenly "vanished." No clue was left as to why and how they disappeared, even among their family and friends. In the proceeding years, the mystery of their disappearance grew into El Paso lore. Did the Patterson's, who were business owners, have a double-life? Were they murdered? No one knows for sure to this very day. EP History has compiled newspaper articles from the El Paso Herald-Post, beginning with the first reports of the Patterson's strange disappearance in 1957, to follow-up articles written in the mid-1960s. Those latter articles will be posted soon.
Below are many of the original Herald Post newspaper articles that came out starting in August of 1957.   The Pattersons went missing on March 5, 1957, but nobody reported them missing until five months later. The Pattersons would go to Mexico monthly, and also took trips all of a sudden, so them missing was not really noticed for months.
It is a more than a weird disappearance. They left their wallets and her purse on their bedroom dresser, their pet cat was found wandering the neighborhood hungry and locked out, and Patterson associates had cleaned out the place and actually rented it out.  Then the sheriff was notified.  It was a closed case, but in the early 200os El Paso Sheriff Leo Samaniego re-opened it. It is still open today. Sheriff Samaniego said he thought, without proof, that the Pattersons were spies and ran afoul of their parent organization.
Pattersons 8-15-1957-1 Where Is Couple Who Left EP In March
Pattersons 8-16-1957-1 Friend Is Not Worried About Missing Couple
Pattersons 8-17-1957 Los Angeles Police Join Search For EP Couple
Pattersons 8-18-1962 Patterson's Sold
Pattersons 8-19-1957 Sheriff Continues Hunt For Couple
Pattersons 8-20-1957 Find Friend of Pattersons
Pattersons 8-21-1957-1 Missing Couple Found In Texas
Pattersons 8-22-1957 Roth Explains Property Sales
Pattersons 8-28-1957-1 Ask FBI To Hunt Missing Couple
Pattersons 8-29-1961 Father Positive Son is Alive
Pattersons 9-5-1957-1 Six Months Old Today Patterson Mystery Deepens
Pattersons 9-6-1957-1 Patterson Dead Closest Friend Says
Pattersons 9-11-1957 Believes Pattersons Are Dead Too
Pattersons 10-2-1957 Patterson Inquiry Considered
Pattersons 10-26-1957-1 Pattersons' Boat Found In Valley
Pattersons 10-28-1957 Find Patterson's Clothes Here
Pattersons 10-29-1957-1 Patterson Mystery Reward Is Started
Pattersons 10-30-1957-1 Woman Gets Patterson Mystery Call
Pattersons 10-31-1957 Article 2 Mrs. Patterson Left Fur Coat 5 Days Before Disappearing
Pattersons 10-31-1957 Pattersons' Kin Worried To Death
Pattersons 11-1-1957-1 Tommy The Cat Again In Mystery
Pattersons 11-2-1957-1 New Mystery Man In Patterson Case
Pattersons 11-5-1957 Patterson Bank Accounts Sought
Pattersons 11-6-1957-1 Pattersons Have Sent No Word Home
Pattersons 11-7-1957-1 Did Pattersons Have Much Cash
Pattersons 11-7-1957-2Pattersons
Pattersons 11-8-1957-1 Tommy The Cat Lacks Visitors
Pattersons 11-9-1957-1 Mrs. Patterson's Relatives Sought
Pattersons 11-11-1957-1 Pattersons' Friend Says They Aren't In Florda
Pattersons 11-12-1957-1 Confusing Questions Unanswered In Patterson Mystery
Pattersons 11-27-1957-1 Try To Identify Female Skeleton
Pattersons 11-30-1957 Vanishing Persons
Pattersons 12-16-1957 Home Awaits Tennant
Pattersons 12-17-1957 What Happened To The Pattersons
Pattersons Brownwood Bulletin 1-10-1958 Business Of Missing El Paso Couple Placed In Receivership
Pattersons Brownwood Bulletin 1-10-1958 Business Of Missing El Paso Couple Placed In Receivership
Pattersons Kerrville Times 6-4-1958 Lubbock Man Ignores DA
Pattersons Kerrville Times 6-4-1958 Lubbock Man Ignores DA
Pattersons 11-19-1958 Photo Shop Manager Explains Rent To Be Paid For Home
Pattersons 11-24-1958-1 Plan 5000 Reward in Patterson Case
Pattersons 12-9-1958 Juarez Tipsters Seek Patterson Reward Slice