10-31-20 "Ghost Stories of El Paso"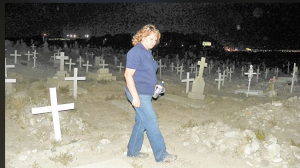 Psychic LadyD Diana Calamia at the Smeltertown Calavera Cemetery
Halloween is happening, even if trick-or-treaters are not. But did you know El Paso is a hot spot for historic haunted places and ghostly tales?
On the Oct. 31 broadcast of "The El Paso History Radio Show" hosted by Jackson Polk and Melissa Sargent, the topic was "Ghost Stories of El Paso" with guests J.R. Calamia and his psychic wife, Diana Calamia, also known as LadyD.
They related the haunted history and spooky stories they encountered while touring El Paso's ghostly hot spots with Jackson Polk and a crew of photographers. The result was a series of TV programs, "Ghost Stories of El Paso."
We also heard from Annie Perez and Ruben Escandon Jr who were on the camera crew for most of the location video shoots.  Pic of Psychic Diana Calamia provided by Capstone Productions Inc.
Hour One
Hour Two