7-25-20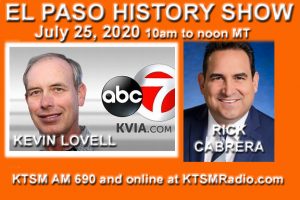 Kevin Lovell and Rick Cabrera graphic by Jackson Polk, Kevin pic by El Paso Inc. Rick pic from Hub International
Between the two of them, they have more than five decades in broadcasting and journalism in El Paso. Along the way, they reported on many of the most memorable events and crises that continue to shape our region, even today.
They are Kevin Lovell, the longtime general manager of Channel 7 KVIA, who was a reporter before he went into management, and Rick Cabrera, who was a news and sports anchor at the station for almost 20 years.
On the July 25 broadcast of "The El Paso History Radio Show" hosted by Jackson Polk and Melissa Sargent, we'll talk with Lovell and Cabrera about the TV history they've been a part of, plus history-making events in El Paso.
The only live radio program about El Paso history airs from 10 a.m.-noon Saturday on News Radio 690 KTSM.
Hour One
Hour Two