5-15-20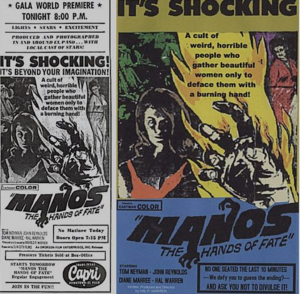 5-16-20 live show 10am to noon MT on KTSM AM 690 and online at KTSMRadio.iHeart.com
You may have heard about "Manos: The Hands of Fate" and its dubious honor as one of the worst movies ever made. But did you know it was made in El Paso and produced on a bet by a local insurance and fertilizer salesman?
Saturday, May 16 on "The El Paso History Radio Show" hosted by Jackson Polk and Melissa Sargent, we talked with Jay Duncan, founder of the Sunset Film Society. He knows the history of "Manos," explained why it's such a bad movie, and how it has achieved something of a cult status. There's even a "Manos" video game. AND, Jay had a list of pandemic movies.
The only live radio program about El Paso history airs from 10 a.m.-noon Saturday on News Radio 690 KTSM.
Hour One
Hour Two