4-11-20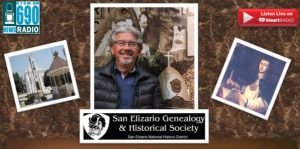 Al Borrego
San Eli's story
The small town of San Elizario plays a big role in the history of the El Paso area. The San Elizario Genealogy and Historical Society usually hosts a seminar in April to explore that historical significance, but this year it has moved to September.
Al Borrego, the society's president, was the guest on the April 11th broadcast of "The El Paso History Radio Show" with Jackson Polk and Melissa Sargent. Borrego discussed the importance of San Elizario, its museums and presidio chapel, and what it means for the region's cultural heritage, and what will be in the conference re-scheduled for September.
The only live radio program about El Paso history airs from 10 a.m.-noon Saturday on News Radio 690 KTSM.
Hour one ( no commercials )
Hour Two  ( No commercials )